November 11, 2012

Mormonism
A friend of mine posted this photo on Facebook suggesting that a Christian who belongs to a religion that has a building as ornate as this cannot consider him/herself a good Christian given all the suffering that occurs in the world.
Let me tell you about this building: the Salt Lake Temple for the Church of Jesus Christ of Latter-day Saints (AKA, the Mormons).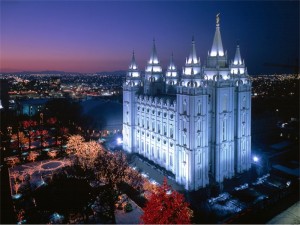 It took 40 years to complete. The initial foundation stones cracked five years after construction began, so the Mormons tore the stones out and started again.
This building is used by thousands of people every week from all over the world. The LDS Salt Lake Temple opened in 1893 and was closed for one year (7/62 to 5/63). It is closed twice a year for cleaning and maintenance. Otherwise it remains open for Mormons to use five days a week from early morning to late evening.
Everyone who works in this building volunteers his or her time. No one is paid to work inside of this building, yet hundreds of people work here every day it's open.
The lights in the trees are put up and taken down by local volunteers every year. This also occurs in the gardens twice a year so the gardens are lovely and inviting.
Do people suffer in this world? Sadly, yes they do. But this building is an example of people's love for God as they sacrifice their time and energy. This building does not represent a lack of Christian resolve – it exemplifies it!