September 14, 2013

Religion
It is done.
I have completed graduate school for the second time in my life and am thrilled beyond measure. There were aspects of it the first time around that I loved, but writing a book that only three people would read and possibly cite in their research was not one of them. Now I have written two books that 10 people (at the most) will read. When I completed my master's degree, I did a study on how certain words could recall information that preceded it. My thesis was titled, "A contextual analysis of anaphoric reference: This/these versus such (a/an)." I know. A real page turner. My second book that I never intended to write was entitled, "Designing equity-focused action research: Benefits and challenges to sustained collaboration and organizational change." In essence, I studied how a series of trainings on equity gaps between students initially succeeded then fell flat at a community college. Yet again, a real page-turner.
The reason why I completed a doctorate was not my idea. It was the Lord's. I was attending a conference at USC in August 2007. I sat in the initial meeting to lay the groundwork for a year long research project at my college and the Holy Spirit told me, "Get your doctorate." Now, if you hear the Holy Spirit of God tell you as clear as day to do something, you would probably do it. Not me. I argued with the Spirit in that very moment. I countered with, "I've been married for about a year and we want to start a family. Bryan is not young and neither am I. Is that not a righteous desire?" The response was, "Get your doctorate."
Thus began a year long search for the right doctorate program. The process took so long because I cast my net wide and looked at all possible iterations of getting my doctorate.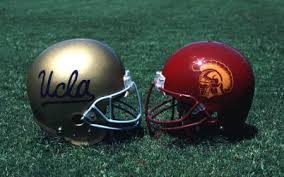 I considered law school in Virginia, a sociolinguistics program in Canada, and even returning to UCLA for a PhD. After much research, prayer, fasting and a visit to the temple, the answer was to apply to only two programs designed for working professionals — an Ed.D. in Education at UCLA or USC. I was accepted into both programs, but I chose to go to USC. My initial reason why I chose USC was that I could take one year of coursework at their Irvine campus whereas UCLA would have caused me to spend time on the worst gridlocked section of the 405. It was an easy choice. However, that was not the Lord's reasoning which became clear to me a year after I made my choice.
Remember my telling you about sitting in a conference room at USC learning about a research project? Well the woman speaking at the time was Alicia C. Dowd, Co-Director of the Center for Urban Education at USC. She is an expert on diversity issues in higher education, specifically, the achievement gaps that exist between racial and ethnic groups. What Dr. Dowd does is fascinating and my work related research project back in 2007 helped me begin to understand that. However, that project was a bust at my college. The concepts shared by Dr. Dowd and her associates weren't sustained and the college moved on to other projects. So I didn't put much stock in it.
The first year of the doctorate laid the groundwork for understanding diversity, accountability, learning and leadership.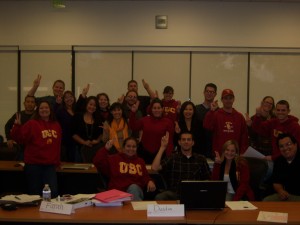 At the beginning of my second year, Dr. Dowd became the chair of my dissertation and my mentor. What was so remarkable about getting my doctorate, attending USC and for her to take me on as a mentee was that Dr. Dowd was speaking at the exact time the Holy Spirit told me to get my doctorate. If I had trusted the Lord and listened, really listened to Him when He prompted me, I would have saved a year or two and a load of grief and anxiety.
Thus began a research project directed by Dr. Dowd with nine eager Ed.D students in which we traveled the state to take notes at equity training sessions. I visited colleges around California so I could observe trainings similar to the ones I had experienced years ago at my college. At some colleges, they embraced the message of attending to the achievement gaps of some student populations; however, for others, they responded with stone faces and binders of their own data to disprove that the student achievement gaps were due to issues the college could fix.
My assigned research site was a state university and I met with them throughout spring 2011. I took copious notes every time we met. Then I met with them one last time in early summer before their team went to a retreat in an effort to advance the plan. That summer I wrote and rewrote my dissertation proposal (Chapters 1, 2, and 3). After being in the Ed.D. program for two years, I was dedicated to finishing, but during this particular time, I missed a so much that I wanted to do: my oldest nephew's wedding, a revival performance to Les Miserables, and just time with my family and friends.
But I persevered. I said no to all of those and I wrote, rewrote, and revised until Dr. Dowd was satisfied. On the day that I dropped off my proposal to my committee members, Bryan took me out to dinner at a favorite restaurant. Just after our food arrived, I had a full blown panic attack since I had secluded myself for so long to complete the assignment, being in a noisy crowd made me physically ill. A week later I defended my proposal successfully. The next morning I flew to India for my (only) study abroad experience. It was amazing, but that's another story.
What happened next I would not wish on my worst enemy (if I could ever have one).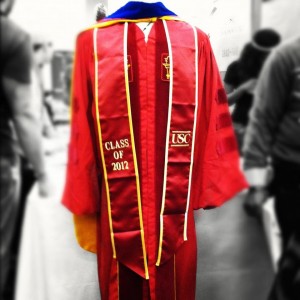 The team linked to my research site dissipated. They didn't lose their jobs, but their interest in being studied did. However, it took months for me to find this out. By the time the writing on the wall was clear, I had wasted 10 months being linked to them and there was a mad scramble by Dr. Dowd to find me a research site so I could collect data, transcribe it, analyze it, revise my dissertation proposal (new site, remember?), write my analysis, come to some conclusions, defend my dissertation, and graduate by mid-May. I had 4 1/2 months.
So, I took the leap and met with my new site. I kept copious notes. I completed my assigned work — pre-interviews, notes during a training, and post-interviews. Then I had to transcribe hours of interviews. It was early March. I was running short of time. I would not officially graduate in May. I was looking at continuing to work through early summer. I'd be done by June. No problem.
Dr. Dowd gave me permission to walk at graduation. One of my proudest days was putting on my cardinal red doctoral robe and adorable tam (a pricey, sassy velvet hat). I was happy to wear the gown. It hid the fact that I had gained 35 pounds in three years and that my "dream dress" was too tight.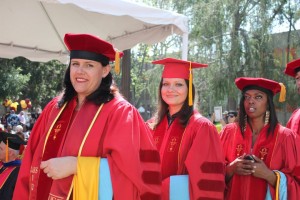 Family and friends alike wished me well and I was grateful that all of my family were together to celebrate my achievement. My three brothers who live outside of California in different states made the trek home and we celebrated by going to Carmen's — our family's favorite restaurant. It felt so good to be back in their fold and to spend time with loved one again.
After the graduation festivities died down, I met with Dr. Dowd to assess where I was and to set a timeline to finish by June. What she told me was that I hadn't collected enough data. There was not enough for me to complete my analysis. I could not finish my dissertation. I had to get more data.
I needed to wait for another student to finish her dissertation so I could compare my data to hers since we had the same research site. So my timeline to graduation had been pushed back to July, August or September. Also, I learned that Dr. Dowd was going on a year-long sabbatical to Australia starting in October. At this point, I lost it. I had done what I was asked to do time and again, but it just was never enough. I got angry — not at Dr. Dowd, but at the Lord — not an especially a smart thing to do.
I stopped praying. I didn't go to church regularly. I didn't go to the temple. I didn't read my scriptures. I didn't do the simple things I have been taught to do to help me rely on the power of Heaven.
I made a few attempts to push my now meta-analysis dissertation forward, but instead I threw my energies into a new assignment at work: coordinating all faculty training at the college. I didn't accomplish much that summer regarding the dissertation and Dr. Dowd's sabbatical on the other side of the world started before I finished.
For the next few months, Dr. Dowd and I touched base every once in a while, but no strong efforts were made to set an aggressive timeline and get down to brass tacks. This May (a year after I planned to graduate), Dr. Dowd reached out to me and proposed that we tweak my dissertation again by adding another student's data to mine who went to the same site after I completed my data collection. For a variety of reasons, this idea is shot down. Whew!
So, let's sum up why I worked on my dissertation for three years when some of my classmates finished theirs in one year.
1. I lost my first research site. Ten months of data is useless.
2. I didn't collect enough data.
3. I included someone else's data into mine.
4. My advisor began a year-long out-of-the-country sabbatical.
5. I lost motivation to continue on.
What I have concluded is that graduate school, especially my dissertation, was an exercise in humility and patience. Did it need to last as long as it did? Maybe. I honestly believe I needed to learn an important life lesson from the Lord (and not Dr. Dowd) — do not delay what the Lord tells you to do. Trust Him.
This summer, I repented for my willful stubbornness. I lean on my own understanding too often and do not lean upon the Lord enough. I think it is because of my profession. I'm a teacher by trade and I'm supposed to have answers. But I didn't have the answer to this life lesson. By openly acknowledging that I could not finish this degree and dissertation without the Lord's help, I was clearer, more focused, more successful.
As I completed the last portion of my graduate studies and submitted my dissertation, a scripture that I hadn't thought of in a long time came to mind. It is located in the Book of Mormon when Christ is visiting the Americas. The individuals who got to meet him were faithful and had experienced great trials of faith. They had persevered and continued to pray to the Lord before they met him. Christ tells them, "Blessed are ye because of your faith. And now behold, my joy is full." (3 Nephi 17:20). Why did I think of this particular scripture? My maiden name is Fuller and as a kid, the joke in our home was to change this scripture to "my joy is fuller." It's true. My joy is "fuller" because of what I have achieved with the Lord's help.
Was getting the doctorate worth it? In some ways, yes. It was a transformative journey and I am a different person now. I see education on both macro and micro levels using tools I didn't know existed. But I don't know what I am supposed to do with my degree. Only the Lord knows what He has in store for me. I cannot say, after all of this, why it was so important for me to get my doctorate and delay having a family. All I can do is trust the Lord and place my (still) greatest wish, to be a wife and mother, in His hands and I will partner with Him in this endeavor.