January 6, 2014
Talks and Lessons
Following is a talk I gave in Sacrament meeting on Sunday, January 26, 2014.
Diligence
I would like to begin with a scripture, found in the first book of James: "But be ye doers of the word, and not hearers only, deceiving your own selves. For if any be a hearer of the word, and not a doer, he is like unto a man beholding his natural face in a glass: For he beholdeth himself, and goeth his way, and straightway forgetteth what manner of man he was. But whoso looketh into the perfect law of liberty, and continueth therein, he being not a forgetful hearer, but a doer of the work, this man shall be blessed in his deed." (James 1:22–25)
We are exhorted repeatedly in the scriptures to be doers, and not hearers only. We in this room have been exceptionally blessed in this life, because we have access to the whole truth of God. We know things the rest of the world does not. We have the opportunity to take full advantage of the blessings of our Heavenly Father's plan of mortal and eternal happiness, depending only on how much we want them.
Complete salvation requires that we become like the Savior in word and thought and deed. In the words of Elder Mark E Petersen, "We can measure our progress toward salvation merely by determining how Christlike we are. If we are not becoming more like Him in our everyday living, we are not advancing toward salvation as we should."
Becoming Christlike is a matter of daily spiritual growth. Just as a flower develops from a seed, or as a mature adult develops from a tiny child, so we can grow spiritually day by day eventually into Christlike personalities.
Jesus the Savior is the supreme example of how we should build our souls. "What manner of men ought ye to be?" He asked, and then replied, "Even as I am." (3 Nephi 27:27)
Becoming like Him is not something we can achieve overnight. It is a lifelong and an eternal process, nothing less. In every hour and every day we must strive to become like Him. It must be our highest priority, and never far from our minds.
And what is the process by which this is done? It is by developing within our own selves the very character traits which make Him what He is. This does not come by studying the gospel alone, nor is it only by being baptized or receiving the priesthood, nor even by being sealed in a Temple. All of these are necessary, of course, but none alone is enough.
In it all, and above all, we need to develop Christlike hearts. We must have a change occur, deep within us. As the prophet Alma taught:
"All mankind, yea, men and women, all nations, kindreds, tongues and people, must be born again; yea, born of God, changed from their carnal and fallen state, to a state of righteousness, being redeemed of God, becoming his sons and daughters;
"And thus," Alma said, "they become new creatures; and unless they do this, they can in nowise inherit the kingdom of God." (Mosiah 27:25–26)
Note this last sentence: "Unless they do this, they can in nowise inherit the kingdom of God." This is a direct warning to us. Unless we have this change of heart, unless we follow the Savior's teachings, our unrepented sins may cancel out all the benefits we otherwise might receive through the ordinances of the Church. We must come to think and feel as He does.
The scriptures are very clear in telling us how to live a Christlike life. (That's why we are instructed to read them so constantly.) We are told in the book of Matthew to love Him so much that we hunger and thirst after righteousness. (See Matthew 5:6.) He is completely, perfectly righteous, and of course we wish to become like Him. But is our desire so deep that we actually hunger and thirst for it?
How great is our desire to walk in His paths? That alone can measure the depth of our conversion. How deep in our souls is the desire to be like Him, and receive the reward of returning to live with Him and to remain with Him and "never go out again"? (It seems to me that Hell is anywhere that He is not.)
Our day-by-day acts — little though they may seem to be — mold our souls. We may draw inspiration from the Lord's own description of the traits which make up His character. He lists them this way:
"Faith, hope, charity and love, with an eye single to the glory of God. … virtue, knowledge, temperance, patience, brotherly kindness, godliness, charity, humility, diligence." (D&C 4:5–6, emphasis added.)
These are the character traits of the Lord Jesus Christ. How earnestly do we try to build them into our own souls? How urgently?
God is perfect. His Son is perfect. He commands us to become perfect, even as He and His Father are perfect. (See Matthew 5:48.) It is no easy matter to become perfect — in anything. Perfection requires devotion, long-suffering, persistence, willingness to sacrifice, and constant concentration. It is no easy matter to live the gospel as we should. But unless we do, we simply cannot receive the blessings.
So, can we expect to achieve perfection like that of Almighty God if we fail to follow the course He lays out for us? The gospel will do us little good if we do not live it. In this light, it is easy to see why the Lord is strict with us and why we must serve Him with all our heart, might, mind, and strength. (See D&C 4:2.)
Membership in the Church alone will not save us. A half-hearted effort will not save us either; instead, it will bring condemnation. (See D&C 58:29.) If we would inherit "all that the Father hath" we must do "all we can do." As Elder Neal A Maxwell said, "Of all the errors one could make, God's gospel plan is the wrong thing to be wrong about."
Christiane and I have recently been studying Lehi's dream, found in 1 Nephi chapter 8. The more we study it, the deeper its meaning becomes to us and the more correlation we find to the times we are living in. In the dream, the footpath of course represents righteous living. The rod of iron represents the Word of God, which is the scriptures, inspiration, revelation, and all teaching by the Spirit, the following of which is the sure and direct course to eternal life. Simply being on the path is not sufficient — as Will Rogers said, "Even if you're on the right track, you'll get run over if you just sit there" — but we must continuously move forward, and we must not let go of the rod of iron.
This, then, is diligence [and if you only remember one sentence from my talk today, this is the one:] — diligence is simply to move forward, and not let go. Through the mists of darkness described by Lehi and Nephi; through the maze of alternate paths; through the contempt and scorn of those in the great and spacious building. We don't even need to be able to see our goal, represented by the Tree of Life — EL Doctorow said about driving in the dark, you may not be able to see further than your headlights, but you can make the whole trip that way — we only need to move forward, and never let go of that rod.
Another of the great prophets of ancient times was Samuel the Lamanite. He was plain and straightforward in his preaching. He did not mince words or leave the people wondering what he was trying to say. As he spoke from the walls of Zarahemla, calling the Nephites to repentance, he told them bluntly that if they refused to live the gospel, condemnation would come upon them, and he made it clear that they would have no one to blame but themselves.
"Remember, remember," he said, "that whosoever perisheth, perisheth unto himself; and whosoever doeth iniquity, doeth it unto himself." (Helaman 14:30)
Then he said that, since we have free agency, we can choose the good or the evil, life or death; but he declared that in the end we shall most certainly receive exactly what we ourselves have chosen.
To quote Elder Maxwell again: "If you have not chosen the kingdom of God first, it will in the end make no difference what you have chosen instead."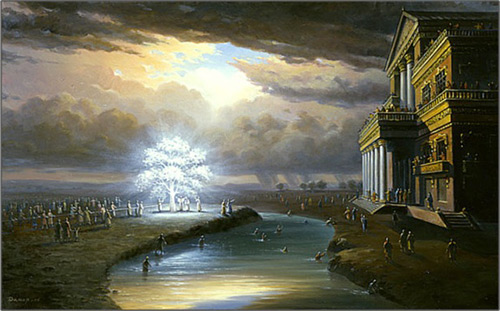 We should all examine ourselves now, right now, and determine how well we are really living the gospel. We should remind ourselves that now, this mortal life, is the time of our probation, and that now is the time of planting for whatever kind of harvest we hope to receive in the hereafter. This is done by diligently applying Christ's teachings and traits to our lives, day after day. It is done by continually moving forward, and never letting go.