My friend Holly uses her 100% whole wheat dough to make the most beautiful and delicious braided loaves filled with nuts and berries. This last Christmas, she taught me how to make these and they were so easy and tasty. I gave one or two away as gifts and people raved about them.
Ingredients
Whole wheat dough (see previous post)
¼ cup of brown sugar
¼ cup of cinnamon sugar (three parts cinnamon to one part sugar)
1½ cups chopped nut (pecan, walnut or hazelnut)*
1½ cups berry (raisin, currant, or dried cranberry)*
1 stick softened butter
* Select only one type of nut and one or two types of berries. Mix the chopped nut and the berries together.
Directions
Step 1 Make 100% whole wheat dough (steps 1-4 ). The dough should have risen only once prior to beginning step 2.
Step 2 Cut the dough into four equal parts. Lightly flour an area so you can roll the dough. Roll it flat into a rectangle shape about 5×7 inches.
Step 3 Brush the "up-side" of the dough with a teaspoon or two of softened butter. Sprinkle the center of the bread with 1½ to 2 Tablespoons of brown sugar and then 1 to 2 Tablespoons of cinnamon sugar. Place on top of the sugars ½ cup of the nut/berry mix.
Step 4 Take a pizza cutter and make 3-inch-long cuts in 1-inch intervals down each side of the dough. Follow the diagram below for braiding the dough.
Step 5 Cover the braided dough with a lightly damp cloth so it doesn't dry out. Let the dough rise (30 minutes to 1 hour, until light and fluffy).
Step 6 Bake at 350° F for 25 minutes. Brush lightly with butter when you remove from oven (or brush with glaze made of 1 egg white mixed with 1 teaspoon water BEFORE baking).
Makes 4 loaves.
Folding Diagrams: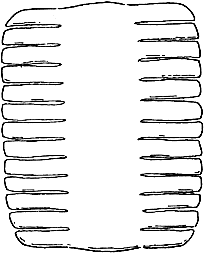 a. Make 3¼-inch-long cuts at one-inch intervals on each side of the dough.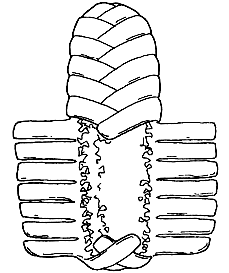 b. Fold the dough strips diagonally over the filling.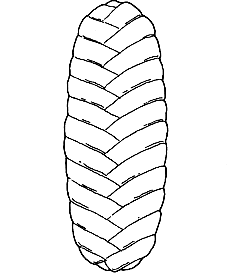 c. Continue folding the strips to create a "braided" loaf.
[Total: 0 Average: 0/5]
You must sign in to vote