Thank you, everyone, for a wonderful sealing and reception. Photos will be uploaded soon!
---

October 30, 2006
Pictures of the bridal showers and bridal photo session have been added to the Photos page.

September 25, 2006
The invitations have been mailed! (Click here to see what they look like.) They are beautiful, and all credit goes to Christiane for picking them out and to her sister Denise for getting them ready to mail.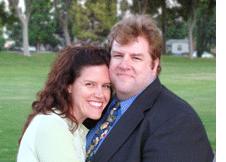 September 6, 2006
Yes, we finally have a date! (Click here to read the 'Save the Date' email that we sent out.)

On November 4, 2006, we will be sealed in the Newport Beach California Temple of the Church of Jesus Christ of Latter-day Saints (pictured above). Because the ceremony will be held inside the Temple, it will be private and by invitation only, but we truly hope you will join us at the reception later that day from 4pm - 7pm at the Newland House in Huntington Beach to celebrate this occasion with us.

For those who have asked, we are registered at Target and Bed, Bath & Beyond.

We have set up this website as a central location to organize the myriad of details associated with getting married. We apologize for the intrusion of modern technology into an event as traditional as a wedding, but we realized early on that it would take more time and energy than we have to disseminate all of this information as it changes and to keep everything on schedule by 'traditional' means.

We hope you'll find everything you need here, but if not, don't hesitate to contact us.